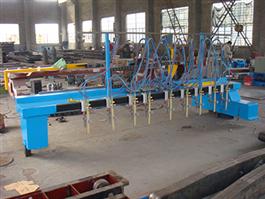 Strip Cutting Machine
ZG series straight strip cutting machine is a highly-efficient equipment for slitting steel sheet, designed for metal structure fabrication. It can cut at longitudinal and transverse directions with high precision and small deformation.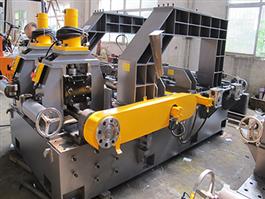 Integrated H Beam Welding Machine
PHJ Integrated H beam welding machine is a highly-efficient equipment for producing H beams. This integrated H beam welding equipment has integrated functions of assembling, submerged arc welding and straightening, suitable for producing light H beams with fillet size less than 8mm.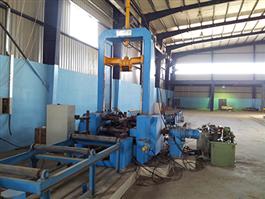 H Beam Assembly Machine
This H beam assembly machine is composed by main body, pull rod system, transmission system, input & output conveyor, hydraulic system and electric system. The main parts of the H beam assembly line adopt welded structures with high strength and light structure. Main parts are stress released to avo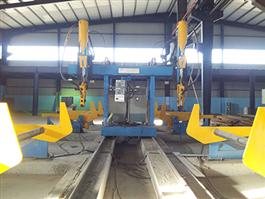 Gantry Welding Machine
Main body of this gantry welding machine: gantry, travel device, transverse sliding frame, wire feeder & accessories. Arc guider of the gantry welding equipment: welding guns, mechanical adjusting devices, and arc guide frame.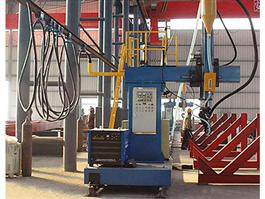 Cantilever Welding Machine
The cantilever welding machine consists of trolley, column, boom, welding arm & carriage, welding torch mechanical tracking device, flux treatment system, gas circuit and electric control system.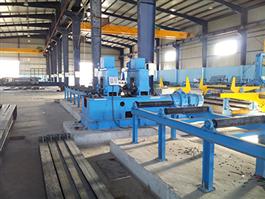 Beam Straightening Machine
Welded H beams have the problem of deformation caused by the heat during welding. This beam straightening machine is specially designed for straightening such deformation. Our beam straightening equipment is mainly composed by motor & gear box, bottom straightening roll, upper straightening roll, di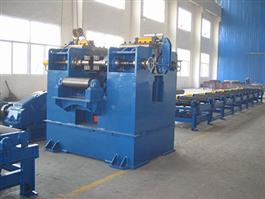 Hydraulic Straightening Machine
For the welded I-beam or H-beam, the flange plate may deform because of concentrate heat flux. H beam hydraulic straightening machine is designed for straightening the flange plate welding deformation of I-beam and H-beam. This hydraulic straightening equipment is featured by easy operation, fast st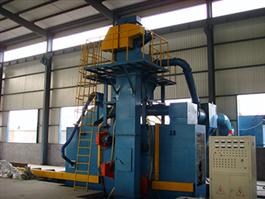 H Beam Shot Blasting Machine
The workpiece surface may contain rust, dust, etc. when in production, machining, transportation or storing. To extend the service life of workpiece, the surface should be cleaned and treated with coat protection.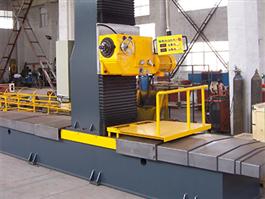 Profile End Milling Machine
This profile end milling machine is composed of milling head, column, machine body, mechanical feeding system, control system, rail guard unit and milling blade. Both horizontal and vertical rails are precise rails with great loading capacity, little clearance and outstanding accuracy. The milling h
H Beam Welding Line

Strip Cutting Machine
ZG series straight strip cutting machine is a highly-efficient equipment for slitting steel sheet, designed for metal structure fabrication. It can cut at longitudinal and transverse directions with high precision and small deformation.

Integrated H Beam Welding Machine
PHJ Integrated H beam welding machine is a highly-efficient equipment for producing H beams. This integrated H beam welding equipment has integrated functions of assembling, submerged arc welding and straightening, suitable for producing light H beams with fillet size less than 8mm.

H Beam Assembly Machine
This H beam assembly machine is composed by main body, pull rod system, transmission system, input & output conveyor, hydraulic system and electric system. The main parts of the H beam assembly line adopt welded structures with high strength and light structure. Main parts are stress released to avoid deformation. The assembly speed is inverter controlled and variable in range of 0.5-6m/min.

Cantilever Welding Machine
The cantilever welding machine consists of trolley, column, boom, welding arm & carriage, welding torch mechanical tracking device, flux treatment system, gas circuit and electric control system.

Beam Straightening Machine
Welded H beams have the problem of deformation caused by the heat during welding. This beam straightening machine is specially designed for straightening such deformation. Our beam straightening equipment is mainly composed by motor & gear box, bottom straightening roll, upper straightening roll, distance adjust part, machine seat and electric control cabinet.

Hydraulic Straightening Machine
H beam hydraulic straightening machine is designed for straightening the flange plate welding deformation of I-beam and H-beam. This hydraulic straightening equipment is featured by easy operation, fast straightening and outstanding straightening quality.

H Beam Shot Blasting Machine
This H beam shot blasting machine is mainly composed by five systems: cleaning system, workpiece transport system, shot recycling system, dust collecting system and electric control system.

Profile End Milling Machine
The profile end milling machine is composed of milling head, column, machine body, mechanical feeding system, control system, rail guard unit and milling blade. Both horizontal and vertical rails are precise rails with great loading capacity, little clearance and outstanding accuracy. The milling head can travel along the spindle with 100mm stroke.


Related Searches: