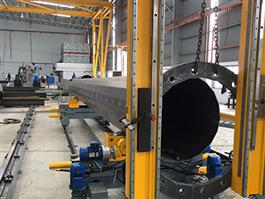 Gantry Positioning Machine
Gantry positioning machine is designed on the basis of our LMH gantry welding machine. This gantry welding equipment is designed for light pole flange positioning.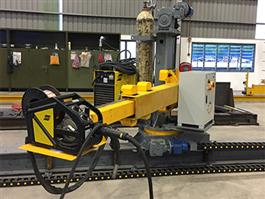 Light Pole Welding Machine
This light pole welding machine carries out welding from head to tail then tail to head. The gantry walks on fine machined rails, through inverter an ideal welding speed from 300mm/min to 3000mm/min can be realized.
Pole Welding Line

Light Pole Welding Machine
This light pole welding machine carries out welding from head to tail then tail to head.

The gantry walks on fine machined rails, through inverter an ideal welding speed from 300mm/min to 3000mm/min can be realized.

Two cylinders from upper side press on the pole. Each of them can go up or come down separately. One cylinder comes down to press the pole when the gantry goes from head to tail. The other cylinder comes down to press when the gantry goes from tail to head. As these two cylinders don't work at the same time, it gives space for operators to observe the welding status.

Gantry Positioning Machine
Gantry positioning machine is designed on the basis of our LMH gantry welding machine. This gantry welding equipment is designed for light pole flange positioning.
The gantry is welded by structural profiles, stress released after welding by heat treatment. The traveling device of this gantry positioning machine is controlled by PLC through servo motors.
The two positioning arms can move up and down, left and right on linear guide rails.
The remote control box is on one side of the gantry, easy for operation. The cables are collected by drag chain.
The speed of arms and gantry is controlled by Schneider inverter.


Related Searches: