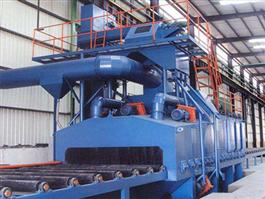 Plate Shot Blasting Machine
This plate shot blasting machine is a multi-purpose shot-blasting cleaning equipment for steel structure welding and H-style steel, which can blast strongly to clean rust spot, rust layer and oxidative layer on the steel, then the steel's surface is so glazed and well-proportioned that can improve t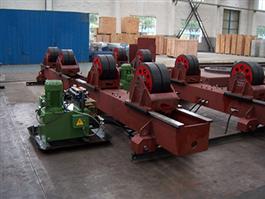 Fit-up Rotator
This fit-up rotator is featured by adjustable fit-up rolls, with each set of rotator consisting of 1 powered rotator and 3 idler rotators. Two worm reducers of the powered rotator operate in synchronization, and the reducers can realize stepless speed variation through inverter. The powered rotator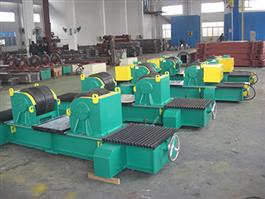 Sand Blasting Welding Rotator
This sand blasting welding rotator is composed by 1 powered rotator, 1 idler rotator, travelling base and control system. The base of this adjustable welding rotator is designed with manual travelling device to facilitate sand blasting operations. As the whole production line is long, the rotator wi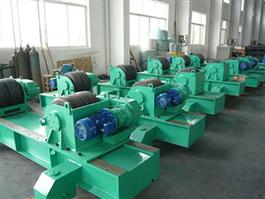 Painting Welding Rotator
This painting welding rotator is composed by 1 powered rotator, 1 idler rotator, travelling base and control system. The base of this self-aligned welding rotator is designed with manual travelling device to facilitate painting operations. As the whole production line is long, the rotator will be co
Wind Tower Production Line
Description
Our wind tower production line consists of the following equipment: plate shot blasting machine, CNC cutting machine, plate edge milling machine, plate rolling machine, flange aligning platform, 1 +1 aligning rotator, straight seam welding machine with welding rotators, inner/outer seam welding machine with 2+2 aligning rotator and welding rotator (fit-up growing line), sand blasting welding rotators and painting welding rotators.
This wind tower production line is mainly used for assembly welding of round (or small-angle tapered) workpieces. It connects the towers by adjusting the height, position and inclination of tower sections through the aligning rotator. The connected towers will then be conveyed to connect with other towers, until all the sections are connected and the inner/outer seams are welded.
The wind tower production line designed and manufactured by our company has the characteristics of compact structure, simple layout and reasonable space arrangement. The motor, reducer, bearing and electric accessories are from global-leading brands to ensure the reliability and service life. All the equipment of the production line has been certified by CE, and meet the requirements of EU importing economies.
Work Process