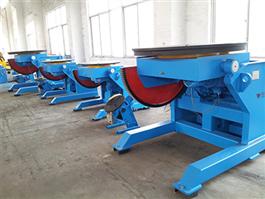 Standard Welding Positioner
This welding positioner is a kind of welding assistance equipment for welding process. Working table of this welding equipment uses motorized tilting with accurate and reliable positioning to make the workpiece at the best welding position. The rotation of working table is driven by AC motor and var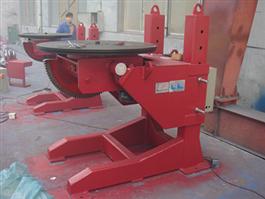 Elevating Welding Positioner
This elevating positioner is a kind of welding assistance equipment for welding process. Working table of this elevating welding positioner uses motorized tilting with accurate and reliable positioning to make the workpiece at the best welding position. The rotation of working table is driven by AC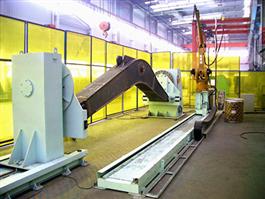 Head and Tailstock Welding Positioner
This head and tailstock positioner is composed by headstock, tailstock, resetting mechanism, traveling mechanism, locking mechanism, traveling base, jaws and control mechanism.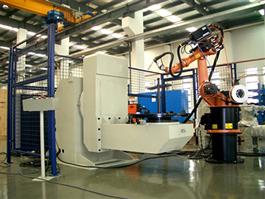 L-hook Welding Positioner
This L-hook welding positioner is mainly composed by machine base, overturn beam, rotation part, connection beam, conductive device and electric control part. Machine base is composed by the base, reducer, slew bearing, and switches. The base is assembled by channel bars and A3 steel sheets, stress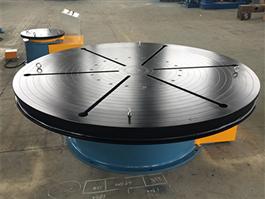 Horizontal Rotary Table
The horizontal rotary table is composed by frame, work table, rotation device, conductive device, and electric part. The frame of this rotary milling table is designed with welded structure, and the work table is composed by the table and slew bearing.
Welding Positioner

Standard Welding Positioner
This welding positioner is a kind of welding assistance equipment for welding process. Working table of this welding equipment uses motorized tilting with accurate and reliable positioning to make the workpiece at the best welding position. The rotation of working table is driven by AC motor and variable speed adjustment with large adjusting range and high precision. It can rotate as per the required welding speed for enhanced welding seam quality, reduced working labor intension and improved productivity.
Elevating Welding Positioner
Automatic and manual welding modes are available for this elevating positioner. Besides, our elevating welding positioner has characteristics of compact structure, attractive appearance, light weight and easy for operation, etc. The elevating positioner is an ideal equipment for pressure vessel, metallurgy, power, chemicals, mechanical industry, metal structure and other industries.

Head and Tailstock Welding Positioner
This head and tailstock positioner is composed by headstock, tailstock, resetting mechanism, traveling mechanism, locking mechanism, traveling base, jaws and control mechanism.

L-hook Welding Positioner
This L-hook welding positioner is mainly composed by machine base, overturn beam, rotation part, connection beam, conductive device and electric control part.

Horizontal Rotary Table
The horizontal rotary table is composed by frame, work table, rotation device, conductive device, and electric part.


Related Searches: